Excited new M1010 Owner
Hello all, I am excited to say the least about my new ambulance.... I have been lurking and reading a lot and there is such a wealth of information here I am very grateful to everyone who contributes and am now ready to ask and contribute some things on my project.
I have been looking for a camping rig for many months on craigslist and I knew that there was a good deal that had popped up only it was on the other side of the country :/ I got what I think was a great deal on shipping and as of a few weeks ago am the proud new owner of a 1985 M1010. Not sure of it's entire history but I would imagine that it sat around at some base for many years and then it was bought by Osakis Fire Dept in Minnesota. It had two ~60 gallon water tanks in the back and a pump that led to what I imagine was a water cannon in the back for wild fires that needed the 4x4 capabilities of the m1010. They owned it about 10 years and then after a brief shuffle of hands I purchased it and had it carted over to Ca where I am planning on making it a dedicated camping rig. One great thing about it so far is that it only has just over 10,000 miles on it so things are still in really great shape. It looks like someone who was competent enough has turned it into a dedicated 12v vehicle. I am now finding myself in a spot where I have some questions as I am trying to ruch things along to get it up to snuff for its first trip.
I will attempt to post some pics of the thing and then ask my first question or two. I will try and only ask what I could not answer through searching the forum.
Anywho, my first question is about a vibration on the alternator belt. At idle it sounds (to steal another threads description) as though someone is strumming a guitar... and goes away past idle, worse when cold. I will read in the manual the directions on tightening the belt but I got it as tight as comfortable without knowing what I am after and I do not own a belt tension meter. The answer I read on here was it was normal... I would love to make it better also I took some video to share. After some staring at things while it was idle after dispatching the third wasp nest.... I noticed that the bottom pulley was a little wobbly. Not only that but the balancer as well so I will hope to kill two birds with one stone and take care when tightening the pulley on to "center the slop out of it and maybe my strumming belt will fix itself?
So one of the things that I am not the first to notice is the lack of gauges. I did not see anyone take my approach which is to find a stock gauge from similar era vehicle and swap it into the dash along with it's correlating sending units and I would imagine nip the threads off the back of the gauges so the stock printed circuit could remain intact and "hotwire" a different gauge cluster in. I went to the junkyard and found a triple gauge that may replace the fuel gauge that has oil pressure, water temp and volts (12v) all in one, then all I would need is a small fuel gauge which I can put in either the Gen2 spot or the current nonop volt meter spot and have something that told me a bit more about what is going on. Of couse more to follow, I also obtained an autometer tranny temp gauge at the junkyard and have a mini digital tach coming in the mail soon....
Another project that I tackled was the battery trays. It shipped with the original battery trays with an mtp-24 and an mtp-65. At the junkyard I got a pair of trays from a civi blazer and welded em together to fit two mtp-24s side by side at the front passenger side leaving the rear tray ready to accept something else such as other recommendations (through reading here) an air compressor or...? Unfortunately the mtp-65 does not fit right and though they are about 6 year old batteries they are still doing fine so I will strap em in for good measure and when I replace the pair they will fit perfect up front there. I did have to shift the innermost battery tray in a good inch to have the width between the second tray and the radiator. The radiator neck was leaking and solder has cured that for now and the overflow had a 2" hairline crack which has been subdued with an epoxy/fiberglass patch for now...
Now the focus is on weatherizing it as there are lots of holes from the fire department that need patching so it can get wet and stay dry on the inside. Wiring the rear box after that and then insulation.
Another cool thing you may notice are the auxiliary front and back receivers and 7000 hitch... At the moment gutted it weighed in at #6400 and is still a dog going up inclines so I don't think Ill be wanting to tow anything anytime soon.
Anywho, hello and cheers!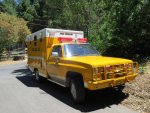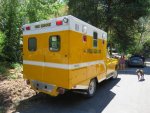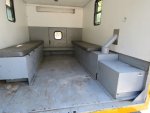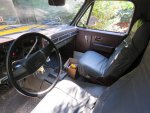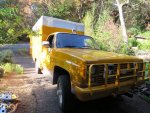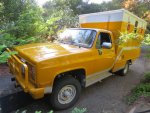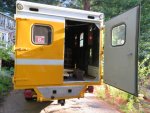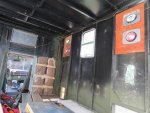 At some point I will try and tackle the AC issue but just having it on its way back together and something that I can trust going for 500 miles at a time would make me happy.
Back to wrenching... (of course right when I get a new rig my work truck gets jealous and shows her need for attention by leaking coolant into cylinder #2 :/ (1994 gmc 6.5T) Which will slow things down somewhat but I can limp along with that one for a while I think...
Here is the belt vibration video along with the pulley wobble.
https://vimeo.com/281029663
https://vimeo.com/281029839
I put the brush on the outside of the balancer to show the runout better....
Last edited: