Cooper ST Maxx in 255/85R16 are excellent. No noise, great traction on road.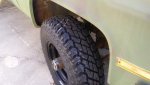 255s will not rub IF DRMO didn't modify the fenders..just a light diddling of the left aft fender liner due to forklift abuse. A little metal massage with a dolly will eliminate this, no tire damage, just a little dirt buffed off.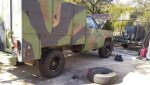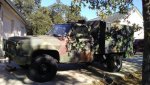 I had one sudden stop, yellow light on 45 MPH road with red light cameras. No drama except for the groceries on the seat. No noise or lockup. The blocks are stout enough to prevent rolling.
They seem to wander a bit so I will monitor the vent sprue wear and consider a bit more toe out. Might need a bit more lift in the front which will help caster. I have a quick and dirty solution, some overload springs I had purchased for the rear.
The Air Lift suspension is better than could be expected. I thought it would make the ride rough but that was not the case. Yes, it reduced total travel but the progressive rate was not harsh at all. Putting a pressure reservoir in the lines would reduce the spring rate without affecting ride height variation. The bottom line is the headlights aim correctly, might need some fine tune. Front spring mod will see..
The hitch is fully installed, got the spare tire relocated 4" forward. Not perfect but it works for now. More pictures in the AM. It really ties the rear of the frame together. Worth the 73 pounds.
Last edited: