Active member
Supporting Vendor
Well, back OT... while my new fan clutch hose is being made.
I removed the PCU from the truck to find it dusty but no sign of oil etc. Removing the cover revealed a pristine unit.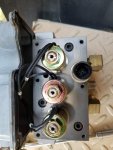 Proceeded to test the solenoids but was a little confused at the markings in the plug not matching the schematic.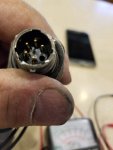 The schematic has no pin C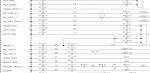 So using a meter, needle and a jumper wire, I penetrated the insulation on each wire to verify which was which.
This is what I found....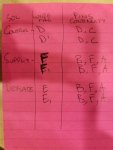 The D', F', E' being the unmarked wire from the solenoid.
Now, that doesn't match the schematic either, which shows the ground connecting A and B, while the inside of the connector clearly shows F/A as the common pin.
It appears for sure that the control solenoid is OK, even though per the schematic the D' wire should be on pin A.
There seems to be a short inside the potted plug in order for Supply and Deflate both to be on the same pins.
So none of this makes sense. Do I have the wrong schematic? How do wires in a potted plug even short to each other??