What are some of the major or even minor changes that happened to these from year to year. Ive been trying to narrow down a range of years I'm looking for but have had problems finding out what years had what equipment and what changes.
1.It looks like in 2000 they went from a mechanical motor to the 3126 electronic engine.
2.in 05-06 they went to the C7
3. in 07 they changed the trans control unit so not sure if the trans is different
4. At some point they made a change to the fuse panel
Anything else that you can think of. Also they if you know what the change on the trans was, that would be helpful also.
Here you can see the trans display double digits like the earlier wtec1 I believe it was.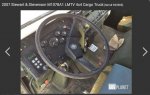 It looks like this could be it, says its for a wtec 2

This is the fuse panel