Making this thread to document what I have done to convert my newly acquired M116A3 over to tow with my civilian truck. Also wanted to document repairs I have done & sources for parts.
Got the trailer to mount my MEP-802A on & add my own things to make it an easy tool for power & fuel at my off grid place, backup power for my home, & mobile power in case disaster help is needed.
I started posting what I did in my
MEP-802A Fix-up Thread
but figured that to documentation would be better for the trailer part of it here in the trailer thread.
This is what the trailer looked like when I got it. Almost nothing wrong. Seller was asking $1500. $550 cash I paid. The only thing I could find wrong is the handle for the tongue jack is missing & the original pin for the rear kickstand.
Looking through some TM's I figured this originally was a PU-797 setup before the generator was taken off.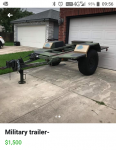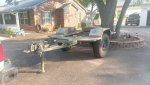 UPDATE: Here is the video I put together. Figured that I would add it here on the first post.
https://youtu.be/4OpN649YuCk
Last edited: