I wanted to start brainstorming on my M135 project.
The long story is https://www.steelsoldiers.com/showthread.php?170096-Houston-we-have-problems-the-M135-came-home&highlight=

The short story is the parts truck is in way better shape than the project
truck a Guido-fied (an Italian Bubba) 1943 G-7123 in my avatar. So it gets put on the back burner for now and all the parts I accumulated for it will be put into the M135, the parts include:

Cummins P7100 6BTA
SAE 2 Flywheel housing and dual disc clutch
Eaton FS-6046 (with a gear change for the Overdive 6th gear...wrecking yard sent wrong tranny, but made it right with new OD gears).
5.43 gears and new bearings for the axles
2 inch Hydromax booster and a master being built by Tim at Precision Rebuilders (Thanks JesusGatos for a great write-up and referral!)
​
HF 54 power steering gearbox (Thanks to the numerous write-ups here!)
M35A2 wiring harness (this comes with the turn signal pigtails)
Ford F550 calipers and B700 rotors
G177 11x20 tires (Thanks Memphis Equipment)
10 ton Anthony hoist off a WW2 SeaBee Hercules
​
The parts to be sourced are:

M35 Brake and clutch pedal assembly
Bendix TF 550/750 brake air compressor
Bed


​
The plan is for a daily driver that is "compliant" with Uniform Code laws that have sadly been exported from here in Commifornia to a state near you. This is the Sadista oart of the title. This entails a less than 9' bed (going to be 8'11 15/16") length. Singling the rear tandem and making **** sure it is under 264" OA. If I don't do these in Los Angeles I can only park on the street for 2 hours max, can't be parked in my driveway (would have to rent a spot on commercial land). I will not cut the frame and make any modifications as reversible as possible. I will make up for the lost bed length with a 5 ton spare tire carrier and davit and extending the cab for a rear seat not crew cabbing, just "extra cabbing".

The project is second in line behind the wife's 1972 Gran Torino ....but I will be sneaking work in here and there!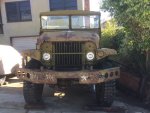 Thanks in Advance!

Last edited: