Ajax
I'll give my thumbs up as well for the torque multipliers.
I picked up a "not so expensive" one from Amazon in preparation even before I got my 923.
After having all 10 wheels off at least once (a couple more than once already to replace axle seals unfortunately) I believe these things are God's gift to MV owners. Unbelievably effortless to use and so simple and effective.
I also recommend always having a couple appropriate spare lug nuts and studs (RH & LH) on hand before starting anything requiring removing the wheels. I found several lugs and studs on mine that were damaged, cross-threaded, stripped, etc. and needed immediate replacement and many more that had seen much better days and will need to be replaced eventually.
Nothing more frustrating than trying to get your truck back together and on the road after dealing with a failed seal or something and not having a simple spare stud/nut to complete the job, especially as I do most work on my truck on the weekends when the local truck parts shops are not open.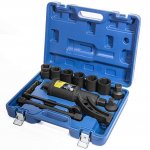 Sent from my SM-T580 using Tapatalk