I've been doing some mods over the past few months.
It started with a radiator swap, that grew into a new water pump, belts & hoses..... and before long, a turbo, new exhaust & eventually Jakes.
I got a turbo & manifold with the truck, so I thought it would be easy. It turns out the seals between the manifold sections was poor & you can no longer buy them. Upon inspecting the turbo, I found it with more end play than I liked, so I proceeded to get it rebuilt. Unfortunately it was already rebuilt & there was no available parts to go an additional oversize on the bearings.
This resulted in buying a new turbo... didn't want to end up with a runaway engine due to a bad oil seal in a worn out turbo....
Next I went looking for manifold seals & was informed you cannot buy them. This resulted in a discussion with a guy that ended up selling me a NTC-350 for $300. It was mostly complete so I brought it home. The engine is really big when you see it in a pickup truck.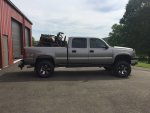 I ended up robbing the exhaust manifold off of it since it was together & tight. I cleaned & painted it before I realized it would not clear the thermostat housing. Not willing to give up, I tried to flip it upside down. It cleared well but the dowel pin locations no longer lined up. After some time with a drill & multiple bits, I had the dowel holes drilled & lined up on the opposite side.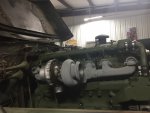 Last edited: