Yes, but unfortunately it is almost impossible to see with the turbo & exhaust in place.
The turbo outlet points straight down, then a 90 deg silicone coupler facing the rear,
a 3.5" tube to a 90 deg coupler between cab & belle housing,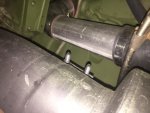 to a 45 deg coupler on top of belle housing, which I could not get a picture of,
then to a 90 deg coupler transitioning to a 4" at the dr. side.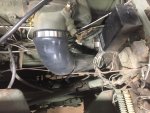 From there a 4" tube to a 90 deg transition at the 5" intake manifold.
All the couplers over the belle housing were connected with small pieces of tubing approx 4-5 " long.
It is a very tight fit back there but it clears nicely & allowed me to have room for Jakes on top of the engine.
Last edited: