Moderator, wonderful human being & practicing Deuc
Staff member
Administrator
Super Moderator
Steel Soldiers Supporter
Supporting Vendor
I applaud the information contained within this thread and appreciate the time it takes to gather such knowledge.

I haven't looked through everything here yet, but I can say this as a "correction" -

The M932 hydraulic reservoir is located between the passenger side fuel tank and the quarter fender. Somewhere, I have a photo, but I'm not able to find it right now. I don't know if it sits on the same bracket as the cargo trucks or is different. The M932A1 and M932A2 have it behind the cab as pictured above.

I'm also thinking that the level wind doesn't change the way the cable is spooled - it is over the top of the drum whether or not it has a level wind.
I'll have to go upstairs and correct those posts because I think you're right on both counts. EDIT: posts above corrected.
On the rope spooling, I guess I got mixed up looking at it, thinking which way the rope would exit the drum to engage the lower rollers. Looking at it some more, I guess they both spool the same way and my example was simply done wrong.
On the M932 tank, it appears you're correct. GovPlanet has multiple M932s that all have the tank as you describe. See below: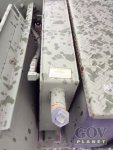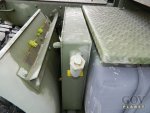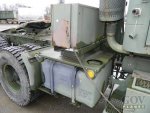 I have to say, even after using the military TMs after 10+ years, I loathe 'em. Hard to find what you're after and apparently no one proofs them.
So in the 272-24P2, the following 4 images are all the hydraulic tanks shown:
1. "Front winch filter and reservoir assy (M939)". To me, I'd think that every M939 series model that has a hydraulic reservoir, has it here with these components. I guess since the M930 has it here and the cargo trucks do, maybe that's so.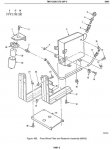 2. "Front Winch Reservoir Assembly and Mounting Hardware (M939 A1/A2)." Again, this wording would make you think any A1/A2 model has a tractor style tank, when obviously the cargo models do not. I don't understand why this doesn't say "M932A1/M932A2" instead.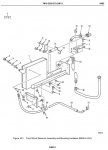 3. "Front Winch Hydraulic Reservoir Assembly and Mounting Hardware - Non AoA Vehicles". Then you get the last two. I think AoA means the uparmored trucks with the tall hardtop. So if that's the case, what is this tank setup for? If it's for non-armored models, how is it different than the #2 setup shown above?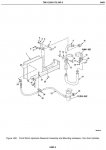 4. "Front Winch Hydraulic Reservoir Assembly and Mounting Hardware - After AoA Armor Removed
(M939 A1/A2)." Finally, you get this one, the last hydraulic reservoir schematic. If this image depicts the system after the armor is removed, it must be for an AoA vehicle.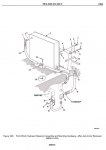 I used the #2 schematic for ordering all my parts and everything worked, so I guess I guessed correctly.
Last edited: