Everyone,
Yesterday, I picked up a MEP 831A generator set for $400. Has a little enclosure damage. The upper fan unit was missing. Pull start was removed due to the rope breaking. The positive wire side for the battery was cut. Solar charger wires & the upper fan wires were cut. Moved it by hand where the pull start would be at it build compression. Besides these issues & being real dirty from sitting in a field, it seems complete. Has 900 hours on the clock. Fuel was drained as best as it could be. There is fresh oil in the engine. The person I got it from said that they got 8 of them at auction years ago. He started it & just plugged in a light & shop fan then let it sit after draining the fuel.
I started by just collecting all the bolts & parts sitting at the bottom of the enclosure. Vacuumed out what I could of the dust & spider webs. Hooked the locking arms for the cover back up. Rinsed down with a hose.
Downloaded the TM's & other manuals available here on the forums. Confident it should start once I get fluids in it & jump it with my larger MEP 802A.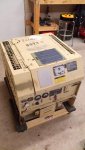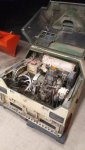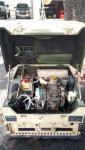 Last edited: