Tomorrow the
Here's my 1986 AM General M998 HMMWV "Sweet Pea" - my nickname for my 12 y/o daughter - who incidentally, is a big fan of the HMMWV. Naming it after my daughter also helped ease my wife's ire about me buying a surplus HMMWV in need of restoration without consulting with her first. Sorry dear (not sorry). Recently fabricated the roof rack system that also holds four (4) additional 5 gallon Jerry cans of Diesel and converted surplus computer server cases as additional lockable gear storage on the troop seating haunches.
Seen here sans doors before going to participate in a Mother's Day parade this year at the retirement community my Mom lives in and has been quarantined in since March. It was a treat for the vets and non-vets alike to see the HMMWV drive through.
When I bought her, she had no top, door, rear seats etc. Dead batteries and all. I replaced all the indicator lights and headlights with LEDs after dropping $420 on two (2) new batteries; once bitten, twice shy. I also installed LED cubes as reverse lighting and wired them to the shifter power source, using a tractor solenoid and threading it to the shifter the way the ambulances have it. Also installed a 12k WARN winch on the front, which has been used thus far to retrieve logs from our property for me to mill on our sawmill. I wired 12v dual-usb chargers in the rear of the vehicle without compromising the milsurp look. I installed dynamat wherever possible and added some "tactical gentrification" by doing a self-adhesive rubber diamond plate on the inside where the rotting insulation was. I also got custom-cut Kydex MOLLE panels cut by EOD Gear and ran them between the A-B and B-C pillars for additional overhead storage and mag pouches etc.
She's going to be driving on the sand at Cape Lookout, NC in October, and I can't wait.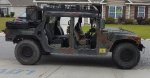 Last edited: