Seems like I am back here every year at about this time.
I been trying so hard to get these brakes right on my late Fathers M135,
He and I worked on this truck for years and the biggest trouble is the brakes keep locking up.
We lost him a year ago last July and I just cannot give up on this truck, it is all for him. But I am so frustrated.
My Son and I have since replaced all the rubber flex lines, have cleaned all the metal lines. And they were all in very good condition.
Previously Dad and I had rebuilt or replaced the wheel cylinders, as well as the booster being rebuilt, twice. We thought that might be the trouble?
The brakes still lock up when applied for a short period. Just enough to make it really hard to drive.
Here is a thought??
I believe once someone on here said there are two ways to rebuild the master cylinder?? I remember Dad had it done once by a local mechanic. I think I was told there is a vent that must be modified from the rebuild kit??
Does this ring a bell with anyone??
Please help.
Thanks ever so much, Brad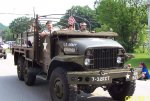 Last edited: