Hello everyone. I am new but old, joined a long time ago but got my first MV last week.I got an M923A1. I bought it from a guy in New Jersey. I drove 12 hours straight through. Then drove 16 hours straight through to get it back. It ran perfect. I have put a 1000 miles on her in the first week.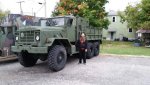 Me picking it up in Jersey.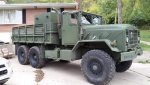 She is finally home!
Last edited: