In the meantime, I have created a drawing according to which I can rework the adjustment tool for the load brake valve.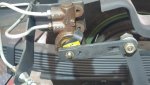 After I was able to acquire one of the few still available, I do not want to destroy it. Inserted and thus set the tab must be drilled away.
So I made a drawing after which I connect two parts with a screw to remove the tab after setting.