When I bought my M1031 March 2012 the generator did not work, but the PTO was fine and spun it. The original controller system was there and everything looked correct with the wiring. I read up on post and found that I had some wires melted due to the exhaust and fixed that. Checked all the connections and bypassed the shift safety as it was just not working and hanging up. All other safety switches are good. After I did all this the generator still did not kick in and the idle never changed. So I just put it off until about a month ago when I had some extra cash to try the solution by b4thundr.

So last week I fixed my M1031 generator with the modern controller that b4thundr has been offering here. It takes the place of all those components next to the electric panel with one simple controller only using 6 wires. All the other parts were fine, throttle actuator and magneto PTO sensor as I noted before. It was very simple to install and only took me about an hour. The unit needs to be programmed to work with the M1031 systems, it cannot just be bought off the shelf, but b4thundr takes care of the programming. My generator only had .6 hours on it when I bought the truck, it now has 1 hours. The 120v works testing a few power tools and also the air compressor works great.

I did some voltage testing and the output is about between 122v and 124v watching it for about 5mins. It did drop to about 117v when I turned on the air compressor, but that can happen on anyone's home when your AC kicks in. I tested the single & three phase 208v outlets individually and each PIN was about 115v, so total combined it would be like 230v. As long as I have good 120v power I am happy and it ran at 60Hz and only bounced do to about 59Hz at times.

So finally my M1031 is complete with working generator. It was not cheap to do this, but a M1031 without a working generator is just a waste of a CUCV maintenance truck.


Before with the old complex system. I tried everything I could to get it working, but nothing.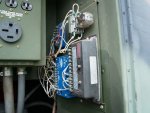 ----

After with the Woodward Apecs 4500 controller. Worked immediately, did not have to tweak anything.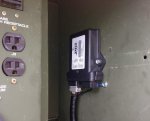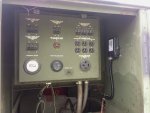 -----


Here is a video of the operation of the
Woodward Apecs 4500 controller.
http://youtu.be/x61kiY_3BYo