Okay, this may sound like a broad and over-asked question with a ton of answers, but I'll ask anyway.
Okay, here we go.
I was considering looking for some tires for my 818, more for a just in case or preventative reasons. The tires I have currently are suitable for normal use but there are a few issues that I have about the longevity of these tires.
I currently have 10 Michelin X 11R20's that are okay on tread but here are the issues and pics of why I may need some replacements. Sorry it was dark when I took the photos.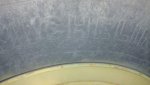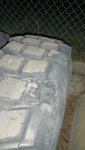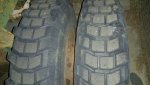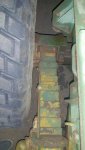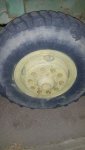 The 2 up front, have some minor dry rot cracks on the sidewalls, I have seen worse on other trucks with similar tires but because these are up front, I have concerns of a possible blow-out. If you have driven California roads and highways, you would understand.
On the rear-rear axle, I have 2 outside tires that has some chunks missing from the outer tread exposing the steel radial partially. Since picking up the vehicle I have done some on highway driving (est. 300 miles) and some off-road trail driving (est. 40 miles) and nothing has got any worse, so far.
The question I have, short of buying 10 brand spanking new tires of similar style and size from a Truck tire shop locally (no shipping), has anyone had success from buying tire lots from any of the auction sites? Is it worth the hassle or should I stay with some of the military vendors that deal with used tires in this size? Since I can't really preview any of the auction site lots, it would be a gamble. I see vendors on the SS site that sell a couple of tires but usually not my size or they are already on wheels. That extra few pounds that the wheels weighs is kind of a deal breaker for me, with the shipping and stuff.
I like the tread profile of the Michelin's, but the Goodyear's look equally impressive. I don't want to swap to Super Singles, because I would have to change the wheels, mine are the stock bud-wheels and duals on the rear and the wheels are in great shape.
My only issue with trying my luck at the auction lots, if I would even win and 2 the logistics of shipping them without actually going out there. I have seen some that are close and by close I mean 1500 miles or so close.
I have tried searching for several of the military tire vendors online, but again, the shipping makes me want to see if I can get a better deal from another source. Not being cheap, just want to get the most tire for my buck. Please don't post any info on specific auctions that may be active or upcoming, was just looking for general info about buying tires in this manner.
Any ideas? The good thing is, I don't need 11 tires (1 spare) right away, thank goodness. But I would like to replace the more worn tires and keep them in matched pairs or as close as I can if they are used.
Thanks in advance.