TMG weekend adventure 4/28 - 5/1/2016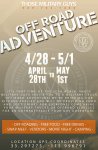 JOIN US!
We're camping and off-roading all weekend in Thermal, CA, close to the outskirts of San Diego County in California.
TMG OFF ROAD ADVENTURE WEEKEND IS HERE!
It's going to be a 4-day adventure filled with military trucks, off roading, food, drinks, camping, and more! We're also inviting all vendors to the event for a swap meet where everyone can buy, sell, and trade, military truck parts!
On April 28th we will be meeting at our shop in Rancho Cucamonga, CA at 10:00 AM where we will convoy together to the camp site. We're inviting everyone to join us in the caravan but you can also simply meet us at the camping location (see GPS coordinates below).

This will be a 4-day event starting 4/28 through 5/1. Not only is it going to be bigger and better than last year, we have a ton in the works! We'll be sure to post updates as the event gets closer. Feel free to join us late, or leave us early. We understand that everyone can't make it all 4 days, but we hope that everybody is able to enjoy at least a day with us!
We will be bringing a completely stocked kitchen trailer and will be serving breakfast, lunch, and dinner, all weekend! Feel free to bring any food items you wish to snack on or share and/or have as backup.
We are adding a military truck swap meet to the adventure that will have their own section where vendors and sellers can set up their tables / booths.
All vendors are welcome! If you have something to sell, please call us so we can coordinate a spot for you!


Please call or email us and let us know if you'd like to come! If you have any questions, feel free to write or call!


CAMPSITE:
Date: 4/28 - 5/1 starting at 1pm on 4/28
Location: GPS Coordinates: 33.297275, -115.996791

Want to join the pre-camp caravan?
Date: 4/28 at 10am
Location: Those Military Guys
8782 Industrial Lane
Rancho Cucamonga, CA 91730



Feel free to join us at the camp-site or leave the trip early if you can not stay the entire duration of the trip!

Comment and let us know you're coming! Invite your friends and family!

Don't forget we're having the buy/sell/trade swap meet so bring any parts you want to get rid of!




Those Military Guys
909.703.1400


EDIT: We will be bringing some special custom parts to raffle off! Here's your chance to get some custom TMG products for free!
Last edited: