First the mandantory disclaimer I am not an ME, nor have I done any calculations on what I am building. This is only a ongoing documentation of what I am building to suit my own needs. No warranty is stated or implied as to fitness and safety of what I am building. Use the info at your own risk! Etc, etc you get the gist.....
It has finally started,

After extinguishing all options on the remove and replace motor in the M135, I researched for what has to be over a year and came up with the preliminary design to follow (BTW the best sources of info is here and welding web if you want to build your own). The boom poles are sized the same as a truck on welding we with the outer legs 2 1/2" by 3/16"
wall
by 10' square tube, the inner tube is 2" by 1/4" wall by 10'. I will be using a separate sleeved lower leg that is patterned after the pole-setting trucks. I have a Hummper 12,000 lbs electric winch that is a planetary type that I might have to change out for a worm drive down the line (it has been said that the worm drives hold the load better and last longer with a gin pole setup) but its a run whatcha go situation. Pleas feel free to make comments and suggestions here are my crude drawings and parts I have on hand as of right now: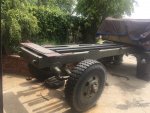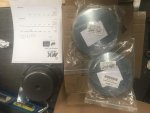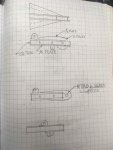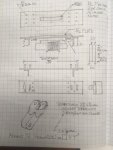 You will note that I have 3 different mast head designs, my favorite is the first one, but would be permanent unless I wanted to remove the hook to take it down. The third one is the simplest, but as of right now I am leaning towards the second one.
I am waiting on the rest of my steel material order and the following parts from ePay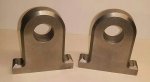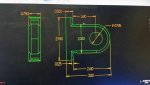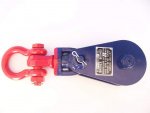 ​Tell me what you think...Thanks!