Here are hopefully better pictures of the horizontal and verticals of the masthead. Please note the width between the 5/16 slits and the overall width of the horizontal pieces have yet to be finalized, both the pulley and hook are approx. 1 1/4 in width, would like an 1/8" between pulley and the vertical pieces, while not making it hard to hook the winch line to the lower mount and the radius slits might change a little as I am going to calculate the lowest possible angle of the booms themselves today.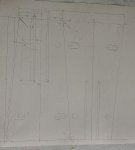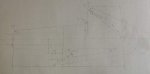 Also going to attach the Warn winch mounting dims for the winch.

​Also Still needing 4 d-rings...anybody have some cheap? Thanks in Advance!