802a. I couldn't bring myself to fix junk with junk, not on my machine. Maybe a grass cutter.Nitrile or not those things are doomed. This even comes with a viton o-ring. Here is the permanent fix. $10.99 + S/H
You do need to remove the fuel filler so you can get your arm in the tank. I was going to fish it in with a small piece of cable but I decided I wanted the tank spic and span. Fishing it through would be tough but on a bet I could pull it off.
Here is what you need.
http://www.plastic-mart.com/product/10047/arlington-10897
And a 3/4 inch washer , perfect fit no modifications required.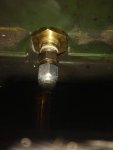 It is a tight fit on the inside radius of the tank but it proved to be no problem. Enjoy
Last edited: