I have pretty much completed the first bike. There is a issue with the clutch not activating so I cant get the bike out of neutral. I'll have a friend that is a bit more knowledgeable in that then me check it out. Then it's just covering a seat and it's done.
I decided to start on bike #2. I went through all of the wiring, cleaned up the connections, installed a new Deka battery, Raptor non-vacuum fuel petcock, replaced the fuses, rebuilt the carb and used the IMS tank set aside for my bike. The other two tanks lying around were really dirty and I didn't want to throw that problem into the mix. Anyone know the best way to clean out fuel tanks?
I was able to get all of the lights and black out lights to work. The bike wouldn't even attempt to start. All I would get is a click at the starter circuit relay. I then bridged the two connections on the starter relay and it tried to crank. After some coaxing I got it to start.
https://youtu.be/G8rTzGfKJLo
I'll give it a rough once over before I take it out for a test drive in the dirt. It seemed there was a minor fuel leak at first but tightening down the petcock seemed to solve that. There was some oil coming out of the airbox drain. I assume this is due overfilling.
BIKE #1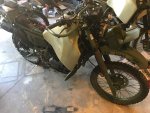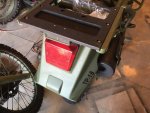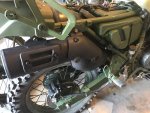 BIKE #2