19K M1 Armor Crewman
Steel Soldiers Supporter
ALERT: to
all M39, M809 and M939 series 5 Ton truck

owners

,

I purchased six aftermarket 5 Ton Torque Rod Ends from eBay seller wolfer-parts in early September for my torque end replacement project. They were sold as new, unused parts per the seller's listing. They are designed for all M39, M809 and M939 series 5 Ton trucks. I checked the seller's current listings and

there

are none of these ends listed. I have seen similar ends available from other sellers both on and off eBay. Unfortunately, I cannot ascertain a LOT number from these ends. The surface rust is from some damp weather we've had locally and was not present at time of delivery.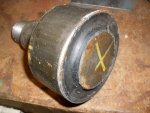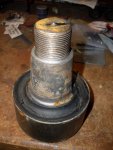 I had them professionally pressed into my existing torque rods along with six NOS military ends. The shop used a 30 ton press, a special sized arbor equal to the diameter of the outer steel case
and some light lubricant to complete the job. NO heat was applied and they were pressed in from the chamfered side per the TM..

As I was completing installation on my truck, I noticed three out of the six of these ends were already showing signs of rubber separation from the outer steel casing.This was with normal articulation of the rear axles through jacking and I had not even driven the truck yet. One failed the military pry bar test (per PS Monthly instructions) by pulling out by 1/2" and not returning to center. You can see the the offsetting in the three below pics. Losing faith in all these ends, I removed all six ends and replaced them with all NOS military issue which cost me extra down time, repair time and money. Needless to say, I was a "bit" ticked (

understatement

).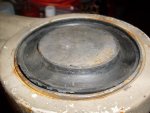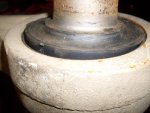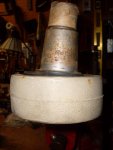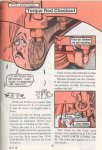 I was able to easily slip the outer steel casing off one of the failed ends with little effort

.
There are no signs of tearing or distortion to the rubber bushing or the steel case. There's not much holding this end together.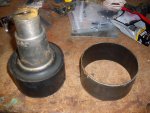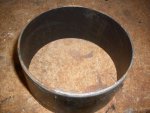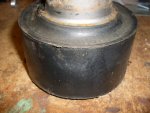 I have notified the seller of this problem and I am awaiting their response. I would encourage all 5-ton (M39, M809, M939 series) owners to recheck their torque rods if they have installed these ends similar to these regardless of wh

o you bought them from

.

In hindsight, I am glad I discovered this issue before I put the truck back on the street.

Last edited: