Member
Steel Soldiers Supporter
Finished replacing the Water Outlet Manifold hoses Friday evening. Spent all night in the mud to ensure readiness for more fire wood shenanigans with no leaks.
The next morning I found quite a bit of fuel in the crankcase so I sidelined her for the day until I could complete my FDC delete this morning.
Fingers crossed on not seeing the oil level rise after this oil change.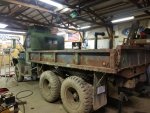 Sent from my SM-G950U using Tapatalk