I happened across this truck today, and am considering bringing it home. Trouble is, I don't know a whole lot about it. The gentleman that owns it said it was a 1941 half ton, so I think it's a WC. Is that right?
It's mostly complete, but the radiator is missing. I think the bed is actually a trailer body, it has a tag on the side with loading instructions for howitzer ammunition. I didn't see any data tags anywhere on it. I also noticed it has what appear to be split ring wheels on it. I've always been told to stay away from them. Are the wheels on this truck something to be concerned about? If so, are there any available replacements out there?
I think this truck is a cool piece of history, I would really like to fix it up. I'm concerned about parts availability, along with things to check out. Any advice or tips y'all could offer would be great.
Thanks!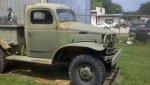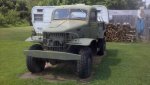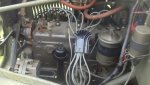 Last edited by a moderator: