I checked out a carburetor from one of the parts trucks. Everything is the same size as what was in my other carburetor. The pieces in the new kit have smaller openings. I'll be taking the rebuilt carburetor to get looked at tomorrow and will bring the kit pieces to show the guy and ask his opinion.
In the mean time, I went parts hunting. I found this but the rod is 1/4 inch shorter than the original. The diameter is .004 less than the original. If it turns out that it will work for us, I'll post the part number.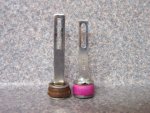 Edit-------This shorter accelerator pump will not work. The diameter is right though.
Last edited: