Ok this morning is game time. I started out early had my DD coffee and a trip to the hardware store for a few odd Kubota bolts. I went down and spent about an hour cleaning my basement work bench. Only toll I needed from my shop was a steering wheel puller. When I was looking for a horn button I came across lots of new GM parts. Always happy to find stash you forgot about. Must have never needed them but bought them from the local dealer a little at a time. I thought I would be CUCVing forever. I guess over 20 years is a fair run.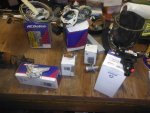 First thing is to remove the 4 bolts holding the mounting bracket to the column. Done.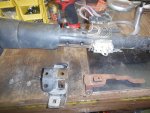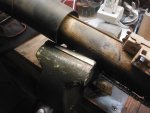 Following the GM manual I clamped the column in the vise using the weld nuts that the support bracket was attached to.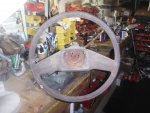 Now to remove the steering wheel.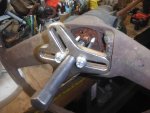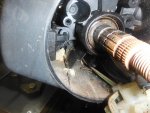 Done. Lots of mud and crud in there. I used the small brush and broke all the clumps free. I see a strange piece. It looked like broken plastic and my heart sank.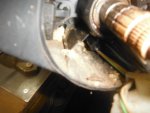 It is a Shark tooth, Never knew they used Sharks teeth. maybe that is the HD part. I am going down and tear into again. I will report back. meanwhile if any Sharks are missing a tooth I have it here in Jonestown.