Well-known member
Steel Soldiers Supporter
I left the spare tire outside for a few weeks when it happened to rain…and now several bolts have what appears to be some surface rust: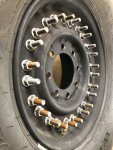 What would be the best way to remove the rust without affecting the threads? Brass brush wheel? (with actual brass wire, not just brass covered steel?).
And what should I apply to prevent it from rusting again? (none of the active wheel bolts on the truck have developed any rust, so I presume it's because this one was static, which I am thinking it would also be static when mounted on the tire carrier and it may rust again?).
Thank you!
Last edited: