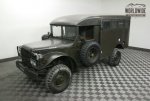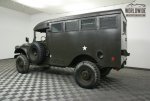 Been on this site for years waiting and waiting to pounce on the right M152 communications/command truck. Found an excellent condition, running, driving unit with less than 10,000 miles? in Denver, licensed and titled in Colorado. Bought it for, I believe, a song considering its condition, and being shipped to Phoenix, AZ right now. This is going to become my camper/bugout vehicle and looking for correct advice on certain things. Experienced hot-rodder here not afraid to modify/improve whatever to acheive a comfortable, relatively reliable, safe vehicle. My daily driver is a hot rodded 1952 Willys Overland pickup truck with tbi 454, 4L80e, NV c241, 14 bolt, 4 wheel discs ... and custom 5 window extracab.
Ideas: improve performance and gas milage of the 251 ci six or swap engines. What is available for the 251? Add Tom Langdon headers? Dual carb manifold? Raise compression? Or ... engine swap ... have available right now an Isuzu 4bd2t with NV4500 adaptor plate - similar to a Cummins 4bt but smoother and quieter. Desire a 4bt, but most that make this swap wind up selling in a few years because of the excessive NVH. "Cummins" does rolls off the tongue better than "Isuzu". "Wow! An Isuzu Power Wagon!" But with 17 - 30 mpg, I would be smiling.
Thinking the stock axles with 4.89 gears, 4 wheel disc brakes, dual circuit 1584 master cylinder and a NV4500 5 speed overdrive would be adequate for 65 mph? I would be happy driving cross country at 65mph. My Willys is comfortable at that speed. Or ... is there an overdrive unit that can be added to the stock Dodge transmission? Willys could simply bolt on Warn .75 overdrive. Been looking at "brownie boxes" but they are really expensive.
Can do an axle swap ... GM 14 bolt rear with discs (dually?), shortened Dana 60 front with discs ... 4.10 gears. Would require a change to 8-lug tubeless wheels. This axle swap would be less expensive than changing to 4.89 gears and discs on the stock axles.
Rear axle width is not a problem as M37 rear fenders can be grafted to the command box and, IMO improve the looks. Have a photoshop picture of the possible M37 fender add - looks great.
Power steering? Will drive truck stock for a while and see if it is needed.
How many of you have upgraded bulbs to 24 volt LED? DOT Military 24 volt LED headlights ($250) or H4 bucket with 24 volt H4 bulb ($80)? 24 volt LED 1157, 1156, dash, interior bulbs?
Going to vinyl wrap the M152 in Desert Storm camo with white roof (Arizona). Add self-stick flexible 24 volt solar panels, charge control and inverter, convertable sofa/bed, sink, toilet, refrigerator, microwave, cooktop, propane, fresh water and black water tanks, grey water discharge, hand-held outdoor shower stored in side compartment, portable generater ... and airconditioning.
Here we go again

Glenn
Phoenix, AZ