8/12/18. Backed the M152 out of the garage for the first time in approximately 1 year. Good to see it in the sun.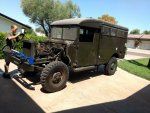 Front fenders are removed preparing for engine removal. We will briefly fire up the engine and take a video of it running for the future buyer, if any.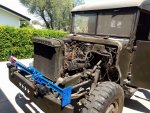 High Lift Patriot series 60" jack with LED Zombie lights on custom mounts.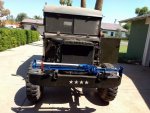 Folding rear deck with Rotopax fuel cans and Pioneer tool rack.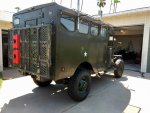 Decided to NOT do the dual rear wheels. Got playing with spacers and such and got a great look with just two wheels. Save time and money not doing rear fenders. Will put spare back on driver's door and second spare on expedition rack.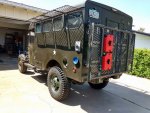 Folding deck in open position with clip-on steps.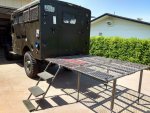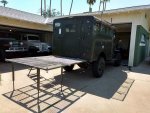 Roommate Larry testing the deck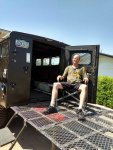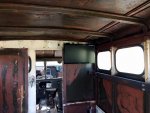 Interior almost ready for soda blast and rust protection before 1.5" rigid polystyrene R7 insulation and panel replacement. 24" flatscreen on Mor-ryde locking mount. Bunk bed cleats are below windows. These really stiffened up the box. Large matching expedition rack not on top. It's pretty heavy and will require about 4 people to safely hoist it into position.
Glenn
Last edited: