I understand the purpose of differentiating between a SDS and a non-SDS setup.
Question:
Looking at this picture of an SDS system that has a grounding rod at the generator and the service entrance:
It appears to me that whether the generator is running or not we can trace a continuous electrical path from the generator grounding rod, through the generator neutral buss, through the green line (grounding wire) and subsequently through the service entrance neutral buss and into the grounding rod at the service entrance side.
Doesn't this effectively create a 2 grounding rod setup? I Thought two grounding rods were bad? In this photo the two grounding rods are common at the service entrance. Correct?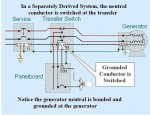 Last edited: