Well, i made deal for new toy - ´85 M1008 this time. Pretty rough for sure but it suits better for hauling wood from forest, maybe plowing later etc.
Usual rust places - cabine corners and floor (damn sound mat and carpet). Otherwise original, 24volt, exept pushbutton plugs and sturdy winch.
I made this topic, because i am probably ask lots of stupid questions and need advices. It was sitting 1.5 years, so first questions are about normal maintenance. Most things are same as my M1009 but - brakes, axles and probably some stuff is different indeed.
Few pictures too, to make this post slightly more colorful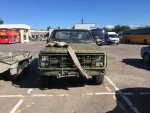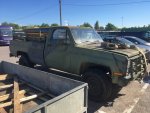 Last edited: