Well-known member
Steel Soldiers Supporter
I've resisted creating the usual, "everything I've done to my deuce thread", as I prefer each topic to have its own thread (more or less). It is my opinion that doing so it more useful to others who may be interested that particular item and it helps keep the thread more focused and on topic.
That said, I want to create a master thread to show the chronology of my work, learning, and ownership. Most importantly we tend to only see communication from folks when a problem arises, but what about all the good times in between? It tends to paint a picture of only constant problems and break downs. I want to use this thread to also document whenever I use/drive my truck (most of the time at least).
But first, here is the history and chronology of what I have recorded and could find.
----------
2010:
To start off, in January of 2010 one of my brothers showed me a link to two M35A3's for auction through GovLiquidation.com at Hill AFB in Utah. I've seen many WWII jeeps and other military vehicles, but it opened my eyes how readily one could own a military truck! It's probably not a very good life goal, but I've said since I was a kid that I wanted to own a tank, so what better place to start than with an MV that's in my price range? I inspected the A3's in person, crawled all over them, took pictures, and knowing what I know now, I'm positive they would have started and been drivable with just new batteries and 2-3 new tires (the infamous A3 CTIS had let the air out of a few on each truck, thus ruining them). The same brother pointed me here, to SteelSoldiers to continue my research. I made numerous phone calls to the Utah Department of Motor Vehicles (DMV), state troopers, weigh stations in Utah and neighboring states, and insurance companies so I would have a complete picture of my requirements and costs as an owner. I learned that I had much less to worry about than I thought. I didn't end up bidding on the A3s at Hill AFB as they went for over $6000 plus fees - then there would be towing and repairs on top of that.
I started searching a very popular local, free classifieds page, KSL.com, and found an M35A2 for sell from a private seller located in Tooele, UT. On April 3rd, 2010 I purchased the truck from him for $4,800 - running, driving, and stopping. The fellow had a large, gravel yard with many work trucks (and a 1/2 dozen or so other MVs) and I believe it was a diesel repair shop. He said he purchased the truck at auction in Nevada for a pipeline project that fell through and no longer had use for the truck. He fixed the park brake for me and included an NOS air wiper motor to replace the driver's one that was non-operational, and even an NOS driver's side fender as mine has some cancer. At the time of this writing, I still haven't installed it as I'm not to the point of repainting the whole truck.
These are the original ad pictures: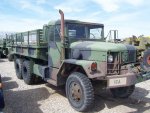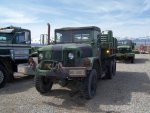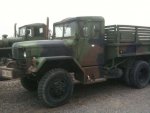 1972 AM General M35A2
Hard top w/ gun ring cutout, winch, wooden troop seats, and wooden bows and uprights with corners in the bed
I talked another brother into driving my newly purchased deuce home for me while I rode shotgun. I needed to learn how to drive a manual transmission and had limited experience at that point and just wanted to get the truck home where I could practice on side roads and not the freeway!
The 60 mile drive home was successful.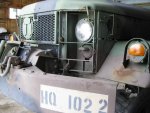 However, when we got to my place we discovered that the primary fuel filter had a serious leak. At the time I wasn't as gun-ho about fixing everything myself (I'm still not for any possible & future serious engine problems). During the safety inspection, I paid Boyce Equipment to replace my fuel filters and some rotten rubber hose for the windshield wiper motors.
I didn't do or use my truck much for the first two or three years that I owned it. Here's what I have documented or can find:
It appears I didn't change the oil until August of that year, 2010, and asked a question regarding the proper spring-cup orientation for the canister oil filters:
http://www.steelsoldiers.com/showthread.php?55951-Oil-Filter-change-spring-amp-cup
In the fall, I purchased and installed a new speedometer cable, but found that the old cable had actually broken off inside the old speedometer and I couldn't get the piece out. (It was broken at time of purchase). Of course, who knows how long it was like that. Original Odometer: 19709.3 miles
Unfortunately I don't have any record of the Hour Meter at time of purchase.
2011:
In March, the Engine Stop handle came off the cable:
http://www.steelsoldiers.com/showthread.php?67571-Reattaching-the-Engine-Stop-Handle
I'll have to dig up pictures. I ended up drilling a small hole through the handle and cable and installed roll pin. So far it has held.
One early morning when driving the deuce, I turned down a side street and with the angle of the sun on the windshields I couldn't hardly see out of them due to the sand blast pitting when the truck was poorly prepped for CARC decades before. I purchased replacements from Boyce Equipment and installed them right away.
In May, one of my brothers sand blasted the rusty bow corners and his friend that did powder coating sold me a 1lb sample of 383 Green matching powder coat, Fed 34094, and I purchased a cargo cover that had 1 foot in the grave, still was $270 shipped. It took me 3 years (until 2014), until it was properly repaired (another $70) and is still in use at the time of this writing.
Also purchased from the same seller with the cargo cover were a pair of 8" round convex mirrors. The passenger one is cracked with a piece missing, but I still use it.
My first real modification was a pair of Fasco 24v interior cab fans. I love these things and use them every time I drive the deuce - unless its cold out.
http://www.steelsoldiers.com/showthread.php?72247-24V-fan-installation-w-pics
!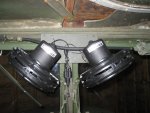 July 1st I added a "Danger" sticker to my tachometer and I decided to take cheaper route and just replace the speedometer with a new one, vs sending the old one out for repair. Odometer now: 00000.0 miles.
I started attending my city's 4th of July parade:
http://www.steelsoldiers.com/showthread.php?71969-Kaysville-(Northern-UT)-Independence-Day-Parade
2012:
In February I installed a Battery Disconnect (and added hose to protect the slave port cables):
http://www.steelsoldiers.com/showthread.php?83830-Battery-Disconnect-Installed
!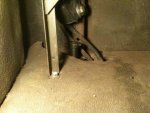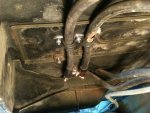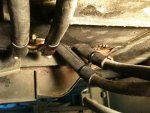 And in March a Battery Tender:
http://www.steelsoldiers.com/showthread.php?83831-Battery-Maintainer-Installed-(w-pics
)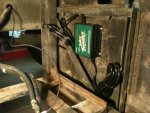 March 10th was the first time I actually checked all the tire pressures and set them all to 50 PSI. The spare had the lowest pressure, but it was still 30 PSI.
I changed the oil again, but split my home-made gasket on the top of the oil filter canisters and dumped a gallon of oil out of them on the driveway and garage when I started and moved the truck when finished. That prompted the purchase and installation (on March 14th) of a set of spin-on oil filter adapters and Wix filters. Oil pressure read 60-90 PSI.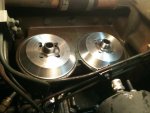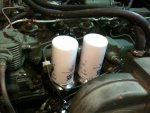 March 16th, new air reservoir drain valves (old ones were hard to turn), same manual screw-open style, and I paid Transtech Auto (which no longer exists) in Clearfield, UT to install a new lower exhaust "J-pipe" (mine was cracked and leaking in the bend, surely caused by rust and water collection) and a Dynomax muffler and to grease the chassis.
***
What do I think about having the muffler after all these years? It's okay. I'm glad I have it but I want more sound reduction and am thinking of replacing it with an Aero Turbine AT3535 or the 6" longer one 3535XL (mounting fabrication needed on the larger one).
Dynomax Muffler P/N: 24216
http://www.summitracing.com/parts/WLK-24216/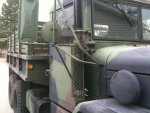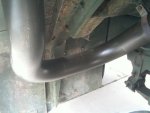 http://www.steelsoldiers.com/showth...ce-this-week&p=1090834&viewfull=1#post1090834
2013:

June 21st, I went to start the deuce and only got a clicking noise!
http://www.steelsoldiers.com/showthread.php?124577-Electric-problem&p=1551667&viewfull=1#post1551667
Even though I kept the stock 6TL batteries on a battery tender, one failed and I believe I sold the other to a recycler a year, or so, later. I also believe they were at least 5-6 years old. I purchased a new pair of Group 31 950 CC batteries from NAPA, P/N: 7235. $321
http://www.steelsoldiers.com/showth...dvice-please&p=1406876&viewfull=1#post1406876
June 22nd, the uprights that came with my deuce were made taller than what would work for the stock 1-piece cargo covers. So I cut, sanded and painted new wood uprights (3/4" x 2-1/2" x 45") from poplar board I purchased from Lowes for about $45. (at the time of this writing in 2017, I'm considering getting thicker oak boards for more strength in the high winds that are somewhat frequent in my area.) I also sanded and glued the bows, saving and reused them. I could finally make use of those nicely restored bow corners!
http://www.steelsoldiers.com/showthread.php?108997-Replacing-refinishing-old-Cargo-Cover-Bow-Sides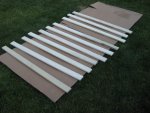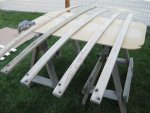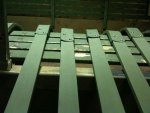 June 28th, I asked for opinions from folks about the cargo cover configurations for parades. I ended up drilling additional holes lower in the newly made bow uprights to be able to raise the bow height and pin in place. This has become standard parade practice for me (if carrying people) and works well even with the 1-piece cargo cover, I only have to attach the rubber rope to the front most tie down loop and the nylon strap on the "tabbed" flaps at the front of the cargo cover I tie to a horizontal board on the headache rack..
http://www.steelsoldiers.com/showthread.php?109289-Parade-Cargo-Cover-up-or-no-cover&highlight
4th of July 2011: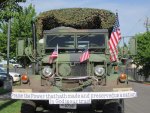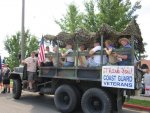 July 12th, I placed a hose around the positive battery cable that runs through the frame rail.
Last edited: