Super Moderator
Super Moderator
Steel Soldiers Supporter
Painted wheels for newest M101A2.
383 Green on face and rest of wheel is flat black. (Black paint applied after pic).
I know they're supposed to be all black but want to see how this looks on mine.
Easy to fix if I don't like the overall look.
Tan trailer is going back to green.
Will have a Camo top.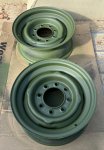 Will let these sit in the sun for a few days before installing new clamp valve stems and new tires.